RFID cards
RFID Cards are mainly used as access cards at offices, parking garages, big events and fairs. The best known use is the ski pass. Public transport and many schools and libraries have been continually busy with integrating the RFID technology.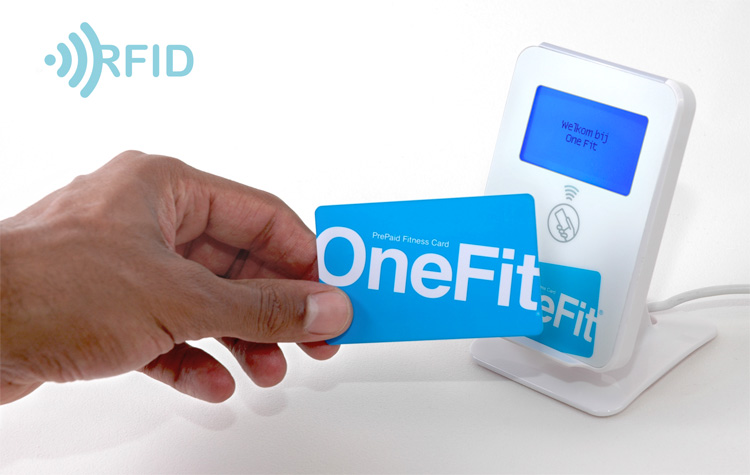 The technique of the RFID cards
Identification with radiowaves is a technology with which it is possible to save information from a distance and to read it from so-called RFID- 'tags' that are on or inside objects. A RFID tag is a chip combined with an antenna that are held together or integrated into, for example, a plastic card. This is what we call RFID cards. These are available in different designs. There are two types that can be distinguished:
Low frequency (125 KHz, range 2-100cm):these cards have over 64 bits up to 1Kbyte memory and are mainly used as access cards.
High frequency (13.56 MHz, range 3-10cm):Have up to 2Kbyte memory and is mainly used for time and registration systems.
The MIFARE (High Frequency) variants from our delivery program are;
MIFARE Ultralight®
MIFARE Classic® 1k
MIFARE Classic® 4k
MIFARE® DESFire®
"Are you interested in using RFID cards?"
A few advantages:
Major advantages of using RFID are among others:
A unique code which allows each individual item to be followed all the time and everywhere, back and forth
There is no need for physical contact (which isn't true for bankcards)
There is no need for a sightline, which isn't the case with the barcode
There is a high transfer speed, many codes can be read within a few seconds
Much bigger reading distances are possible than with the barcode
Falsifying RFID-tags is much more complicated than falsifying a barcode
Because of the unique coding product falsification/counterfeiting is made more complicated and/or it's located quickly
There is no hindrance of weather influences, garbage, etc. This in contrast to the contact cards. Access cards with a RFID chip cannot be damaged, this because the chip is locked up inside the card.
Printing:
Like the standard cards the RFID cards are printable with offset technology. The cards can be printed in standard size in your desired lay-out after which, if desired, Cards Unlimited can personalize the cards. Because these cards are produced in the standard creditcardsize we are able to, next to personalizing the chip, provided with the card of a passport photo, NAW data or other variables. Furthermore, we deliver excellent Card printers that are provided with a Mifare Reader/(re-)writer with which you will be able to personalize and read and/or write on the RFID cards yourself.
Smartcards
Smart cards is a combination of a plastic carrier and a chip. It is a collective name for various combinations from a variety of material choices and categories. A brief explanation:
Contactcards
Contact Cards are manufactured according to ISO 7816 standards. This describes the physical and mechanical properties, the position of the chip, the protocols and rules for data encoding.
There are two basic types:
Microprocessor cards
Memory cards
Microprocessor cards have the same features as a mini computer, a CPU that the data serves as a processor, RAM memory for program control, ROM memory and an EEPROM (the hard drive).
Memory cards can be seen as a floppy disk or CD-ROM. It has no for a management tool and is used as an information carrier.